Throne Speech 2013
Parliament for 2013
Richmond Electoral District
Prior Content
Search
Links
January 27, 2012
Every year the Ministry of Finance publishes a report titled "Where your tax dollar goes".
It is designed to give Canadians a general breakdown of where their federal tax dollars are spent, as well as how they are collected.
The most recent edition, the 2010-2011 publication, can be found by clicking here.
The following graphic is a very brief summary with a pie-chart of where your tax dollar goes.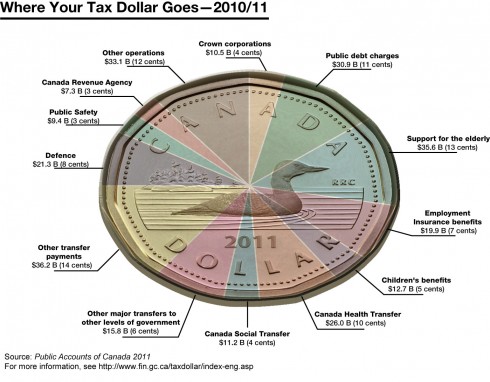 January 23, 2012
The following is a Lunar New Year Greeting from Alice Wong:
The player will show in this paragraph
The following is a transcript:
Hi, I'm Alice Wong, Member of Parliament for Richmond and Minister of State for Seniors. It's my pleasure and honour to extend my best wishes this Lunar New Year to all new Canadians of Chinese, Korean and Vietnamese descent. Not only is this time of year characterized by long-standing traditions, celebrations and beliefs, it also honours the history and ancient customs of one of the world's oldest civilizations. As we enter into the year of the dragon, a symbol of good fortune, it is my sincere hope for all families to be blessed with luck, happiness and good health in the year to come. Those born in the year of the dragon are said to be masters of authority and are honoured and respected. The coincidence of this is noteworthy as honour and respect are the two qualities Canada strives to exemplify in our strong relationships with China, Korea and Vietnam. On behalf of our Conservative government and from my family to yours, I wish all Canadians happiness in the year of the dragon and beyond. Gung Hei Fat Choy.