Parliament for 2014
Richmond Electoral District
Prior Content
Search
Links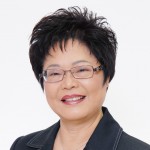 The Hon. Alice Wong, PC, MP is an educator, entrepreneur and active community leader who immigrated to Canada from Hong Kong in 1980. Currently she is the Member of Parliament for Richmond, British Columbia, and Minister of State for Seniors.
Before being elected to Parliament, Alice Wong taught English as a Second Language and Entrepreneurship at Vancouver Community College. She also worked hard assisting her husband with his family business. She continued her studies at the University of British Columbia and obtained her Ph.D. in Curriculum and Instruction in 1993. Alice Wong joined Kwantlen University College (now Kwantlen Polytechnic University) in 1998 and became the Manager of International Programs until 2006.
She started the Centre for Small Business at Vancouver Community College, which offered the first bilingual small business management classes for immigrants. Since its inception the program has produced many successful and award winning entrepreneurs.
Alice Wong and her husband, Enoch, have been happily married for over 30 years. Together they have worked hard to serve others, especially those who are disadvantaged or in need. Along with starting their own business, they have also operated a consulting firm specializing in research and education.
Even prior to her election to parliament, fulfilling her civic duty was important to Alice Wong as she served on many boards including: the Rosewood Manor in Richmond, Rotary Club of Richmond, Benevolent Relief Seniors Care Society, Ethno Business Council, Chiu Chow Benevolent Association, and the Women's Enterprise Society of BC. She has also served as a guest host on current affairs programs on local Chinese and Multicultural radio and television.
Promoting and solving issues concerning the people in Richmond has also been a top priority for Alice Wong. This includes the promotion of public safety and raised awareness for women in the community along with the promotion of greenspace usage in Richmond – especially in a time when Richmond is increasingly urbanizing.
On October 14, 2008, Alice Wong was first elected to the House of Commons in Richmond, to serve the public as a Member of Parliament for Richmond. On November 7, 2008 she was appointed as the Parliamentary Secretary for Multiculturalism.
During the 40th Parliament Alice Wong served as a member of three standing committees in the House of Commons: (1) Citizenship and Immigration; (2) Human Resources, Skills and Social Development and Status of Persons with Disabilities; and (3) Status of Women. Additionally, she was a member of the Joint Committee on the Library of Parliament.
On May 2, 2011, Alice Wong was re-elected to the House of Commons and on May 18, 2011, she was appointed to the Privy Council and as a member of cabinet as the Minister of State (Seniors).
In her role as Minister of State for Seniors, Minister Wong serves as an advocate for seniors issues at the Cabinet table. She does this by working with her colleagues and officials to broaden their understanding of programs that can help improve the quality of life for seniors. She also meets with seniors and other major stakeholders to discuss both the opportunities and challenges facing seniors in Canada, as well as their hopes and aspirations.